CWDi Introduces A COVID-19 Support Video Training Solution In Partnership With FUEL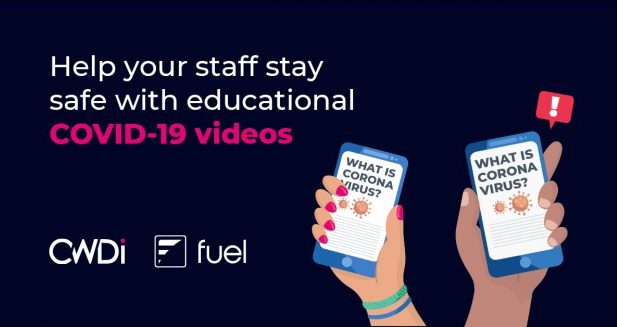 Despite the COVID-19 pandemic that the nation is currently faced with, CWDi is determined to continue solving the challenges that businesses encounter, with creative solutions that inspire connections.
CWDi is proud to announce its partnership with FUEL, to help companies support their staff by educating them and raising the awareness of the prevention and safety protocols necessary for combatting the COVID-19 pandemic. To do this, CWDi presents FUEL's COVID-19 'Care-iculum'. This e-learning content proposal will effectively assist in meeting the goals of creating awareness around health and prevention protocols which will reach all the staff in an organisation.
The COVID-19 'Care-iculum' is video content that has been developed using factual information that has been supplied by the World Health Organisation (WHO) and the Centre for Disease Control (CDC). This information will be translated into Xhosa, Zulu and English. Working remotely, CWDi and FUEL, aim to produce at least one video a week, which businesses can distribute to their staff. Video content can be customised with a company's branding and logo at the bottom of each scene. FUEL will provide a mobile responsive website to house the videos. Employees will be able to access these videos through the link that will be provided, and the data used to obtain these will be reverse billed. A weekly or monthly data cap can be applied.
The videos can be distributed in the following ways:
• Provision on an organisation's Learners Management System (LMS).
• Direct distribution via email and SMS.
• Using FUEL Aranzi LMS on which FUEL will provide a generic login for use.
• Providing educational awareness poster artwork that can be printed for office spaces.
The COVID-19 'Care-iculum' consists of 16 Modules, namely:
Module 1: Introduction to COVID-19
Module 2: What is COVID-19
Module 3: How is COVID-19 spread: Can COVID-19 be transmitted through food
Module 4: How is COVID-19 spread: How long can COVID-19 live on surfaces?
Module 5: Strengthen your immune system with these 9 foods
Module 6: Protect your family: preparing for an outbreak
Module 7: Protect your family: Pregnancy and breastfeeding
Module 8: Protect your family: Children
Module 9: 6 Tips for talking about COVID-19 with your kids
Module 10: 8 Paediatrician recommended tips for protecting your child against COVID-19
Module 11: Protect your home
Module 12: Protect your home: The 6 Dirtiest Things in Your Home
Module 13: Symptoms and testing: What are the symptoms of COVID-19
Module 14: How to know if you should be tested for COVID-19
Module 15: Are you at high risk: Older adults
Module 16: COVID – 19 Treatment
Image Credit: Supplied