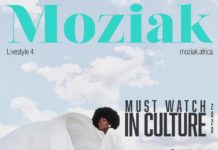 Online culture magazine, Moziak, has revealed their Must Watch In Culture list for 2020. Their annual list, now in its second year, features eight young Africans who are...
Today Netflix announced the renewal for a second season of the African Original series, Queen Sono, starring actress Pearl Thusi. What we know about Queen...
Amplifying artists' fundraising with Spotify's global reach and a $1M artist relief effort from Cash App. Since the onset of the COVID-19 pandemic, Spotify has...
The global health crisis caused by COVID-19 has resulted in the largest global repatriation operation ever seen. Hundreds of thousands of travellers wanted to...
We're now firmly into week four of lockdown in South Africa, with a little while still to go. We caught up with some familiar...
After an exhilarating race around the historical streets of Curaçao last week, the four teams continued to battle it out for the shared R1...
Last week, Tropika Island of Treasure Curaçao bid farewell to #TeamTropical (Simphiwe Ngema and Siyasanga Mfenyana) as only four teams are left to battle...
DJ Lag once again delivers a singular creativity with his latest video – a visually stunning, Gqom-style retelling of Romeo & Juliet. Taken off DJ...
Sliding into our atmosphere, futuristic electronic dance outfit – ZYO – is back on the music radar with his new single "Dockside Days". This...
South African actress and TV personality Ntando Duma has blossomed since her early days as a kids TV presenter. Probably best known for her portrayal...